Fire-Resistant Rubber Flooring/Anti-Slip Rubber Flooring/workshop rubber flooring
Name ------ rubber sheet
L Structure ------- flake
L Material ------- rubber
L Pressure ------- high pressure
L Standard or nonstandard ------ standard
L Structure ------- pieces
L Pressure ------- high pressure
L Places of origin ----- zhejiang, China <mainland>
L Style ------- fashionable
L Minimum order quantity ------ 2000pieces, but we can also reduce the mini or order
L Packaging details -------we will use standard export
L Delivery ------- delivery goods by sea
L Products in store -------- if your quantity is beyond our storage we will provide the lead time to you
L Sample shoot -------- if the first sample come out is not satisfied customer, we modify the mould and until meet customers satisfactory
L Mould ------- according customers request to build the mould, before make the mould, we send mould design to customer approval first, before move forward to production, we send samples to customers to confirm.
L Place an order -------according your own design or you choose our design
L R&D ---------we support customer R&D, make the files or improve the design if you need
L Supply Ability ------- 100000 pieces per month
L payment terms -------- L/C T/T
Fitness and Multi-purpose rubber surfacing offers superior durability suitable for both interior and exterior applications. It is ideal for surfaces that require resilience, shock and sound absorbtion and traction. The premium solid black rolls are also available with colored accent Flecs in a range of colors. Because of the high level of reused materials in each roll, this flooring meets and exceeds the requirements set forth in U. S. Executive Order 13101, and can be a contributing factor towards LEED Green Building Council certification. The available vibrant colors are perfect for dramatic interior solutions and exterior accents. Custom colors and color percentages are available with minimum order quantity.
Product Description
Product Name
Rubber flooring mat
Dimensions
1m*1m*3mm
Density
1.6g/cm3
Tensile strength
>=3.0MPa
Hardnes
65+/-5shore A
Elongation
>=250%
Application
For the manufacture of rings and seals with medium quality.
Anti-Slip Rubber Flooring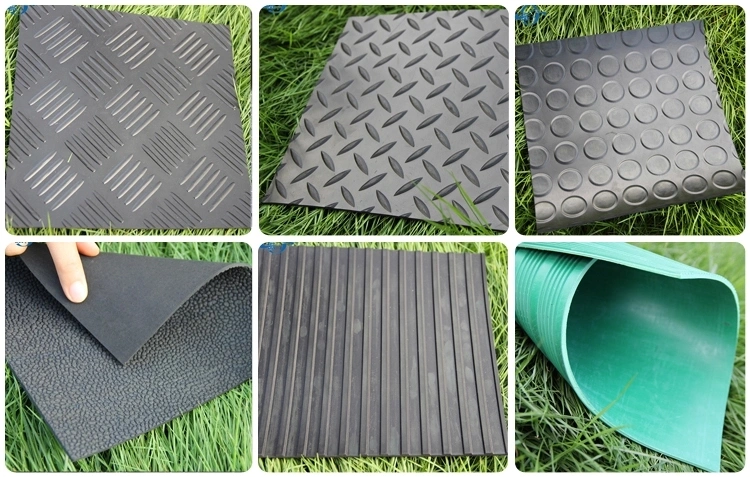 We are a professional manufacturer of many kinds rubber mat, rubber tile, rubber paver, rubber sheet, rubber floor and other rubber products since 2001.Please feel free to contact us for more information. We look forward to receiving your correspondences in the near future.
Our company also produce the following products: If you are interested in our products, please contact Alice.
Qingdao animal husbandry pad, rubber mat, rubber oil fence, hole pad, safety mats, anti-skid pads, kitchen rubber pad, rubber sheet rubber flooring Scotch
Rubber pad rubber cushion mat
Wear non slip rubber pad rubber pad color rubber pad fatigue resistant rubber pad Hotel anti-skid pad outdoor rubber pad
Antistatic rubber pad oil resistant rubber pad insulating rubber pad flame retardant rubber pad color rubber mat
Bath mat rubber matAnti-Slip Mat
Abrasion proof rubber plate acid and alkali resistant rubber slab non slip rubber plate color rubber sheet rubber insulation board anti-static rubber sheet
Oil resistant rubber plate rubber board factory Qingdao rubber board industrial rubber sheet rubber fender
Non slip rubber floor wear-resisting rubber floor color rubber floor insulation rubber flooring flame retardant rubber floor
For additional information, call Alice hou at any time.
I am looking forward to your inquiry.