A height-adjustable desk or sit-stand desk can be adjusted to both sitting and standing positions; this is purported to be healthier than the sit-only desk. Sit-stand desks may be effective at reducing sitting time during the work day between 30 minutes and two hours per working day but the evidence is low quality. To solve this issue, a standing desk may either be custom-made, to suit the height of the user, or made with adjustable parts. For writing or drafting, the angle or slant of the surface may be adjustable, with a typical drawing table. If the desk is made for computer use, the legs may be adjustable. Another option is a platform made to sit on top of a regular seated desk that raises the desk's surface to a useful height for standing. It allows users to sit or stand by adjusting the desk height with an electric motor, hand crank, or counterbalance system.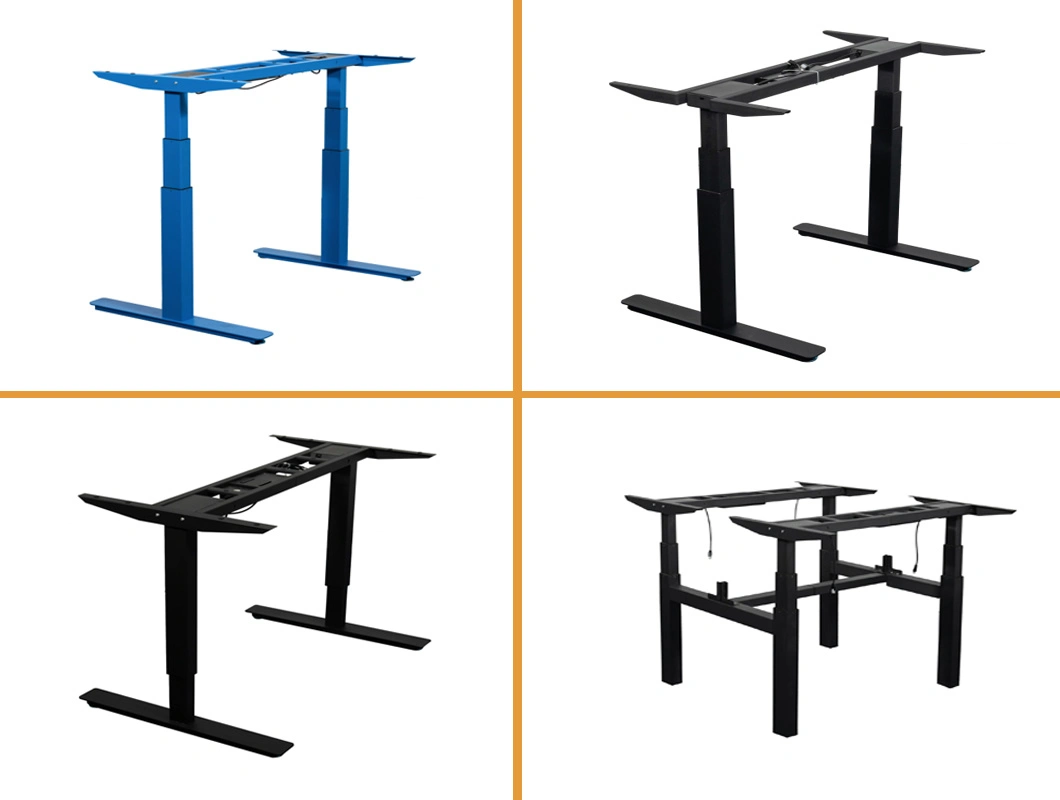 SPECIFICATIONS FOR UD SERIES STANDING DESK

60*80mm,50*70mm,40*60mm/Customized

80*680mm/70*700mm/Customized

80-260kg

Black White Gray/Customized

Touch sensitive or pressing

CE ULTUV ISO ROHS SAA PSE

Name: ELECTRIC MOTOR
Brand: UPLIFTDESK
Original: CHINA TAIWAN
An electric motor is an electrical machine that converts electrical energy into mechanical energy. We choose high quality as Taiwanese brand. It perfomance strong driving force, low power consumption, high economic benefits. Lower noise and integrated desgin to keep well operation and better performance.







Name: LEVELER PAD / LEVELER FEET
Brand: UPLIFTDESK
Original: CHINA MAINLAND
Zinc-plated low carbon steel Non-Swivel Rotating stud. Cover shell and stud Resists corrosion in order to increase durability. Integral Hex Nut Aids adjustment under load. PP Pad Permits easy sliding, resists water corrosion, helps protect floor and surface finishes and prevent skidding, retards creeping.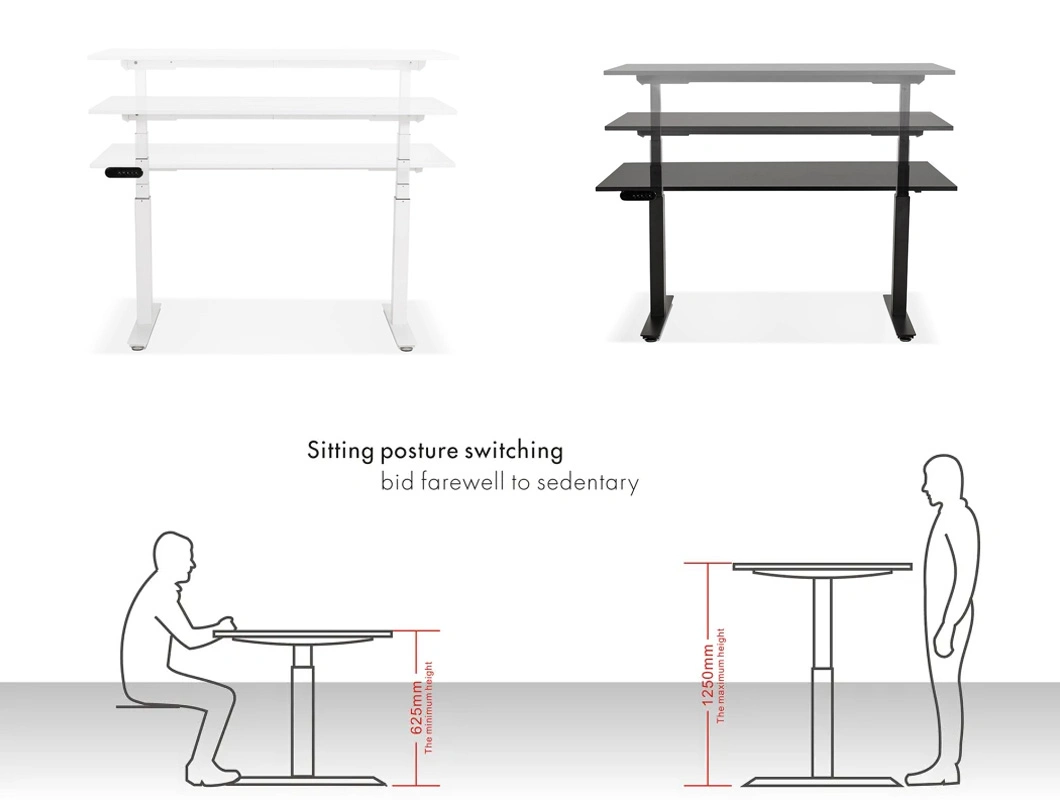 Main Features
1) mature structure in linear type ,easy in installation and maintation.
2) Adopting advanced world famous brand components in pneumatic parts ,electric parts and operation parts.
3) Different functions meet different requirements and markets.
4) Running in a high automatization and intellectualization,no pollution.
5) Apply for office use or personal sue, especially for long time siting person .
6) Improve sub-health and safety potection.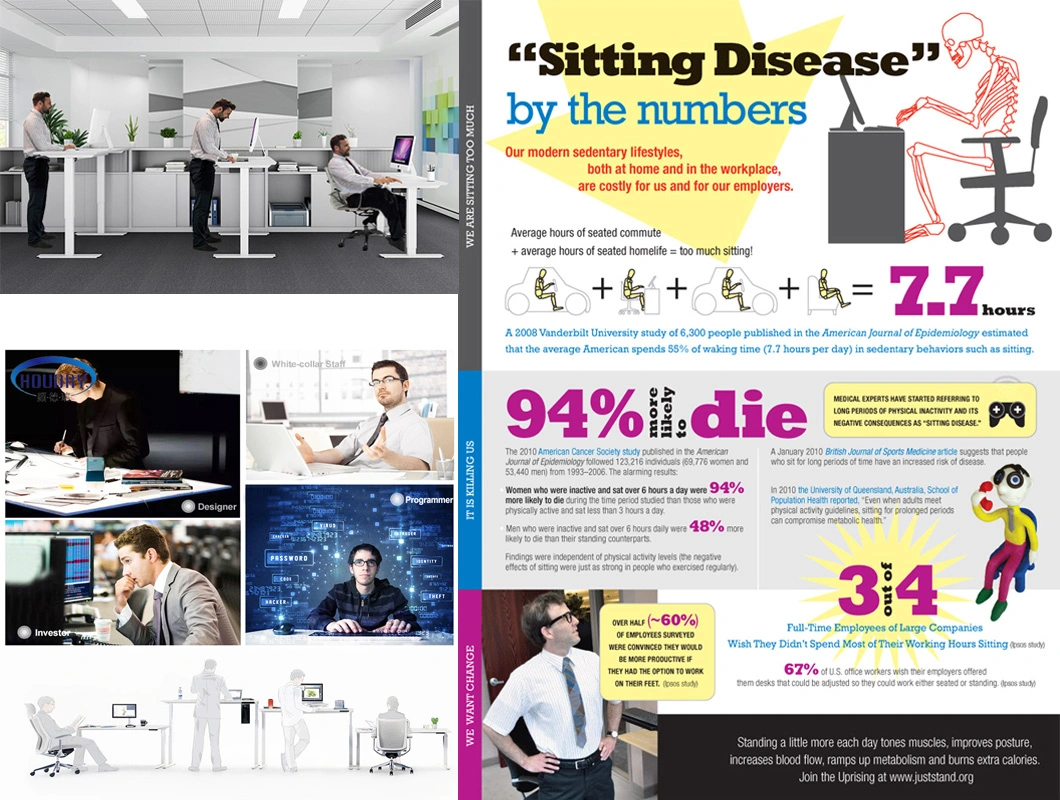 OUR CERTIFICATES: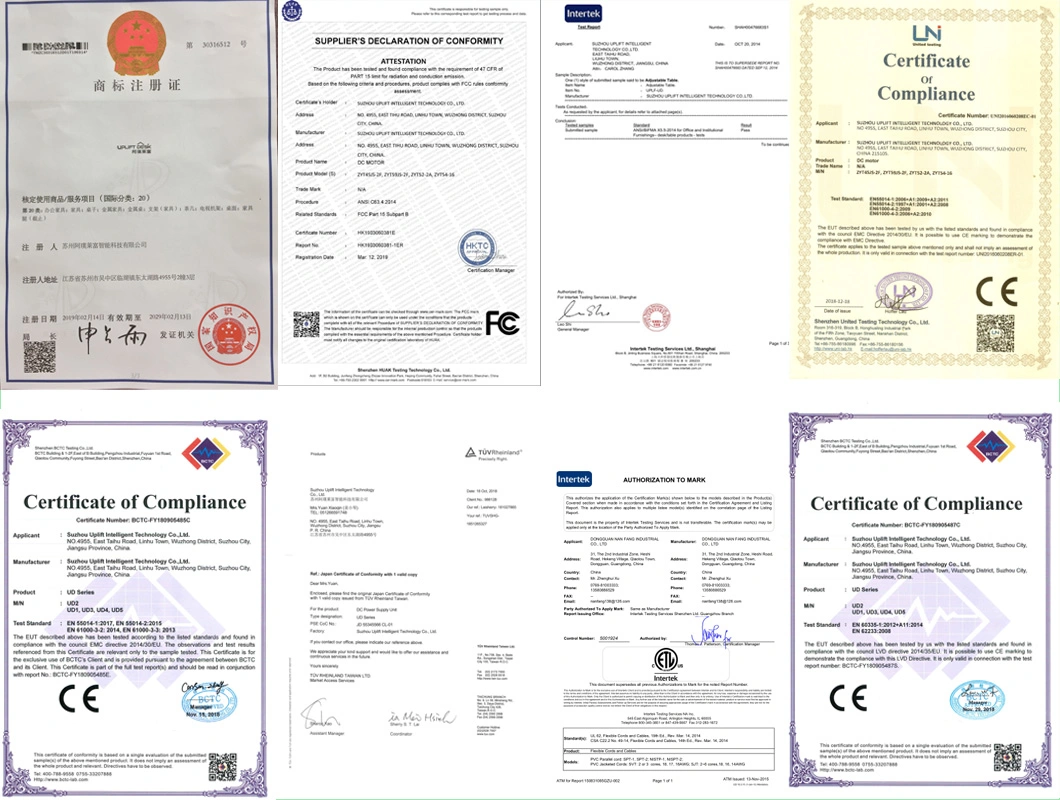 Our Service
* Inquiry and consulting support.




* Sample testing support.




* OEM & ODM plan.

* Photos and videos offering.




* View our Factory and so on.

* Instant feedback within 24 hours.




* Training how to install and use the standing desk or table




* Website materials and maintenance supports.




* Online instruction.




* Project promotion and so on.
Packaging

1070 (L) * 270 (W) * 235 (H)mm

The standard package is EPE and carton box which can meet exporting requiremnets. Then wrap it with PP film. Packing belt can be offered if needed for a long way transportation. Also customization is acceptable with your own design and logo printed on. Shipping mark will be adhesived for your better reference.

Related Products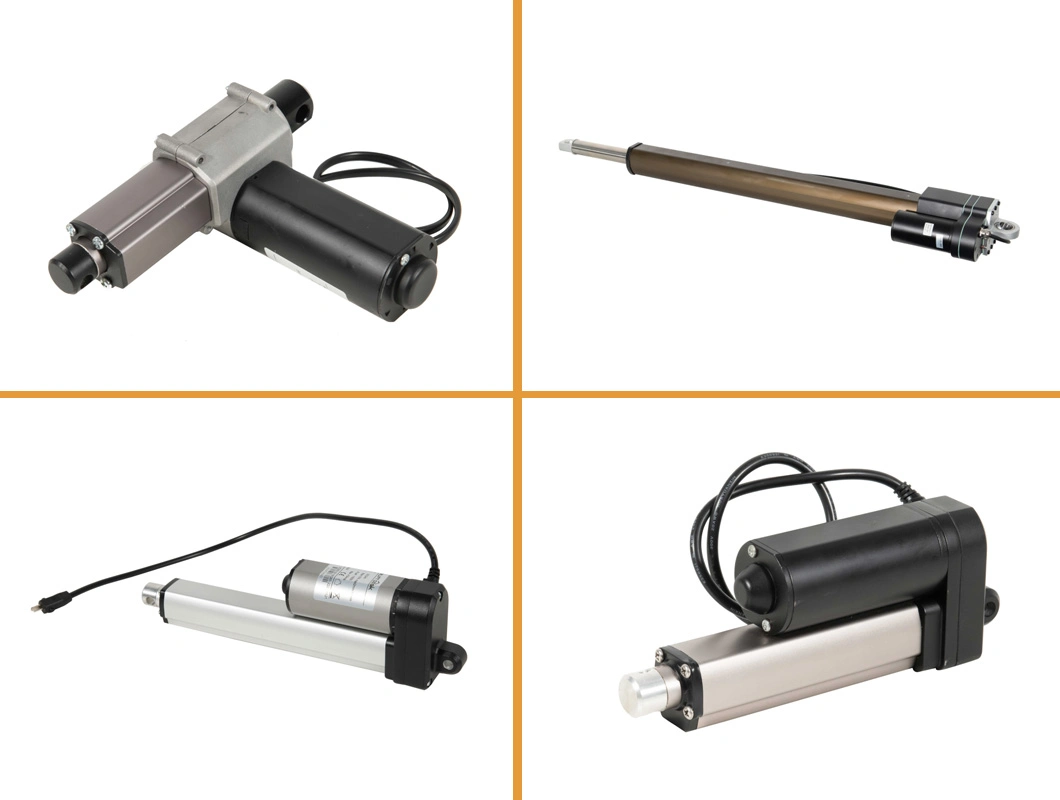 | | | |
| --- | --- | --- |
| 91.8% Response Rate | | 91.8% Response Rate |
Advantages & Benefits for choosing a standing desk



People who sit a lot every day have an increased risk of diabetes, heart disease and early death.
Additionally, sitting all the time burns very few calories, and many studies have linked it to weight gain and obesity.
This is a major problem for office workers, because they sit down for most of the day. Fortunately, standing desks are becoming increasingly more popular. ---- Sitting too much is seriously bad for your health.

What Is a Standing Desk?
A standing desk, also called a stand-up desk, is basically a desk that allows you to stand up comfortably while working .
Many modern versions are adjustable, so that you can change the height of the desk and alternate between sitting and standing.
These are referred to as height-adjustable desks, or sit-stand desks.
Although research is still in early stages, it does appear that using a standing desk can have impressive benefits for health. It may also increase productivity.
At the very least, using this type of desk can partly negate the harmful effects of sitting too much.

Here are 7 benefits of using a standing desk are supported by science.

1. Standing Lowers Your Risk of Weight Gain and Obesity
Weight gain is ultimately caused by taking in more calories than you burn.
Conversely, burning more calories than you take in results in weight loss.
While exercise is the most effective way to burn calories quickly, simply choosing to stand instead of sitting can also be beneficial.
In fact, when compared to an afternoon of sedentary work, an equal amount of time spent standing has been shown to burn over 170 additional calories.
That's almost 1000 extra calories burned each week from simply standing at your desk each afternoon.
This caloric difference could be one of the reasons why sitting longer is so strongly linked to obesity and metabolic disease.

2. Using a Standing Desk May Lower Blood Sugar Levels
Generally speaking, the more your blood sugar levels increase after meals, the worse it is for your health.
This is especially true for those with insulin resistance or type 2 diabetes.
In a small study of 10 office workers, standing for 180 minutes after lunch reduced the blood sugar spike by 43% compared to sitting for the same amount of time.
Both groups took the same amount of steps, indicating that the smaller spike was due to standing rather than additional physical movements around the office.
Another study involving 23 office workers found that alternating between standing and sitting every 30 minutes throughout the workday reduced blood sugar spikes by 11.1% on average.
The harmful effects of sitting after meals could help explain why excessive sedentary time is linked to a whopping 112% greater risk of type 2 diabetes.
BOTTOM LINE: Studies show that using a standing desk at work can lower blood sugar levels, especially after lunch.

3. Standing May Lower Your Risk of Heart Disease
The idea that standing is better for heart health was first proposed in 1953.
A study found that bus conductors who stood all day had half the risk of heart disease-related deaths as their colleagues in the driver's seats.
Since then, scientists have developed a much greater understanding of the effects of sitting on heart health, with prolonged sedentary time thought to increase the risk of heart disease by up to 147% (2, 9).
It is so harmful that even an hour of intense exercise may not make up for the negative effects of an entire day spent sitting.
There is no doubt that spending more time on your feet is beneficial for heart health.
BOTTOM LINE: It is widely accepted that the more time you spend sitting, the greater your risk of developing heart disease.

4. Standing Desks Appear to Reduce Back Pain
Back pain is one of the most common complaints of office workers who sit all day.
To determine if standing desks could improve this, several studies have been done on employees with long-term back pain.
Participants have reported up to a 32% improvement in lower back pain after several weeks of using standing desks.
Another study published by the CDC found that use of a sit-stand desk reduced upper back and neck pain by 54% after just 4 weeks.
Additionally, removal of the sit-stand desks reversed some of those improvements within a 2-week period.
BOTTOM LINE: Several studies show that standing desks can dramatically decrease chronic back pain caused by prolonged sitting.

5. Standing Desks Help Improve Mood and Energy Levels
Standing desks appear to have a positive influence on overall well-being.
In one 7-week study, participants using standing desks reported less stress and fatigue than those who remained seated the entire work day .
Additionally, 87% of those using standing desks reported increased vigor and energy throughout the day.
Upon returning to their old desks, overall moods reverted to their original levels.
These findings align with broader research on sitting and mental health, which links sedentary time with an increased risk of both depression and anxiety.
BOTTOM LINE: One study found that standing desks can lower feelings of stress and fatigue, while improving mood and energy levels.

6. Standing Desks May Even Boost Productivity
A common concern about standing desks is that they hinder daily tasks, such as typing.
While standing each afternoon may take some getting used to, standing desks appear to have no significant impact on typical work tasks.
In a study of 60 young office employees, using a standing desk for 4 hours each day had no impact on characters typed per minute or typing errors.
Considering that standing improves mood and energy as well, using a standing desk is more likely to boost productivity rather than hinder it.

7. Standing More May Help You Live Longer
Studies have found a strong link between increased sitting time and early death.
This is not surprising given the strong association between sedentary time, type 2 diabetes and heart disease.
In fact, a review of 18 studies found those who sit the most are at a 49% greater risk of dying early than those who sit the least.
Another study estimated that reducing sitting time to 3 hours per day would raise the average American's life expectancy by 2 years.
While these observational studies do not prove cause and effect, the weight of evidence indicates standing more often could help lengthen our lifespan.
BOTTOM LINE: Research suggests that reduced sitting time may lower your risk of dying early and therefore help you live longer.

It's Time to Take a Stand!
Reducing sedentary time can improve physical, metabolic and even mental health. This is why sitting less and standing more is such an important lifestyle change.
If you want to try this out, then most places who sell office furniture also offer sit-stand desks.
If you plan to start using a standing desk, it's recommended you split your time 50-50 between standing and sitting.
HONESTY, INTEGRITY, COOPERATION, MUTUAL BENEFIT